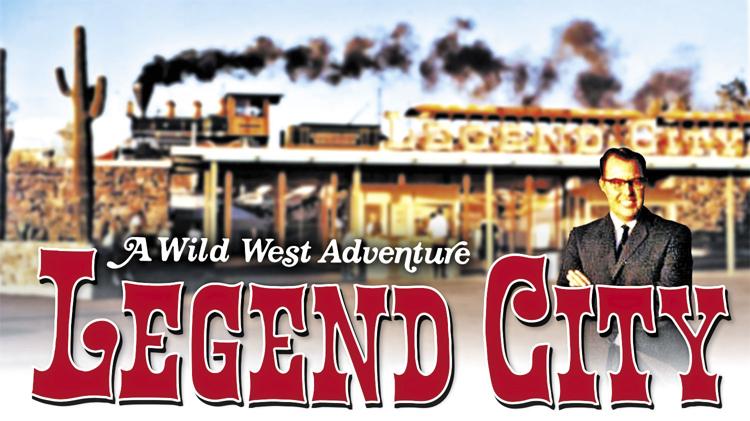 Arizona's attempt to bring 'Disney' to the desert
Publisher's Note: Long-time residents will recall Legend City, the old Phoenix amusement park that never lived up to its potential. It's burned in my memory as a magical place where I spent many warm nights with my friends, playing that old bingo-like game Fascination in the arcade area. This article was a lot of fun to research and I hope readers enjoy the trip down memory lane. Special thanks to Legend City historian John Bueker. See John's website legend-city.com for more photos and memorabilia.
— Greg Bruns, Publisher
---
To say that Louis Crandall loved Disneyland was more than a bit of an understatement. In fact, he visited the park so much that it became his dream to build his very own version in his home state of Arizona. Flashback to the 1960s, and Crandall's dream had become a reality with Legend City Amusement Park. 
Crandall was a Mesa native who owned Louis Crandall and Associates, a Phoenix advertising agency. After Disneyland opened in 1955, he visited the park multiple times. 
"He fell completely in love with the whole idea and felt very strongly that Phoenix should have a similar park. Louis made it his mission to bring a Disneyland-style theme park to the Valley. Amazingly, he succeeded," said John Bueker, author of Legend City and professor at Arizona State University.  
Crandall gathered a group of Arizona businessmen and formed Legend City, Incorporated. From there, stocks were sold and an allotment of land was purchased on the Phoenix and Tempe border at Washington Street and 56th Street. 
The park was situated on 78 acres and construction started in 1961. After 18 months, Legend City officially opened June 29, 1963. More than 28,000 people attended the grand opening, which featured a five-hour groundbreaking ceremony before the park opened. 
"The original idea was to feature rides and attractions based on famous Arizona legends like the Lost Dutchman Mine," Bueker said. 
With this in mind, Crandall split Legend City into six sections, each featuring its own rides and attractions, to mimic the California park he had grown to adore: Gay '90s, Boom Town, Ghost Town, Indian Village, Mexican Village and the Modern Era. 
Boom Town and Ghost Town were the areas where the Arizona legends theme shined brightest. Among the Lost Dutchman Mine ride, there was an old-time saloon, shootouts, bank robberies and a Sheriff's Office.  
The Lost Dutchman ride was a fan favorite. Passengers were taken through a mine in actual mining cars where they would witness spooky scenes of skeletons working on the mine, skeleton barbers, collapsing walls and prisoners.  
The River of Legends, later known as Cochise's Stronghold, was set in "Apache country" and took passengers on a river boat ride past Apache Indians, cavalrymen, earthquakes and animals that "attacked" the boat. There was also a lagoon where guests could operate "stern wheeler" boats and canoes. 
Not only were there themed rides at the park, but there were also classics such as an antique car ride, race car track, log ride, Krazy Kups, Tilt-A-Whirl, burro rides and mini golf. Guests could take in a round of shooting practice, play arcade games or watch a puppet show.  
There was also plenty of live entertainment at Legend City.  
"One of the primary entertainment venues at Legend City was the Golden Palace Saloon, where future Miss America Vonda Kay Van Dyke performed along with KPHO-TV personality Sandy Gibbons and a barbershop quartet called the Copper Tones," Bueker said. 
Miss Van Dyke could also be seen performing a ventriloquist act with her dummy, Kurley-Q. 
One of the most popular live performances, with children as well as adults, was that of Wallace and Ladmo.  
Wallace and Ladmo were hosts of a local kids television show that was broadcast on Channel 5 from 1954 to 1989, making it the longest running kids show in history. 
Wallace and Ladmo performed a show of cartoon acts, skits and musical acts in the Lagoon Amphitheatre on weekends.  Pat McMahon was the third portion of the act, playing a number of characters including Aunt Maud, Captain Super and Gerald, the "quintessential" brat. These days, McMahon can be found on Channel 7 as a Daily Mix host. 
The Legend City Railroad was another attraction loved by the guests. It spanned a full mile around the park. 
"The train was often victim of frequent "robbery attempts" by Old West outlaws. The railroad was one of the park features inspired by what Crandall observed at Disneyland," Bueker said. 
In its first year, the park received over 500,000 guests. 
Shortly after the park was open, Crandall stepped down as owner. The park went through a series of new owners and differing degrees of success.  
At one point, new rides were added as a way to improve the attractions, such as the Haunted Castle and the Tilt-a-Plane, which allowed riders to flip upside down in an "airplane" while going back and forth.  
The park faced bankruptcy until 1969 when U-Haul founder Sam Shoen took over the park and reopened it. After that, the park was sold to Continental Recreation, but closed down again. In 1976, the park opened again with new rides and under new ownership. Sadly, success did not follow. 
On September 4, 1983, after 20 years, Legend City closed its gates for the
last time.
"In the end, the real estate on which Legend City stood had become quite valuable, while the park itself had become old and dilapidated. SRP coveted the land for their new corporate headquarters," Bueker said. 
Bueker, who visited Legend City when he was a boy, still holds fond memories to this day. He became fascinated with the history of the park, so much so that he wrote a book and developed a website dedicated to Legend City's memory.  
In 2013, the Arizona Historical Society in Tempe held a 50-year anniversary to mark the grand opening of the park. The event was sold out; in attendance was Louis Crandall and his family, as well as Wallace, Vonda Kay, and Sandy Gibbons.  
The Tempe History Museum also held an exhibit about the park in 2016. Crandall passed away that same year, but the memories of the park live on in the hearts and minds of all who visited Arizona's very own Disneyland. 
For more information on Legend City, visit legend-city.com.