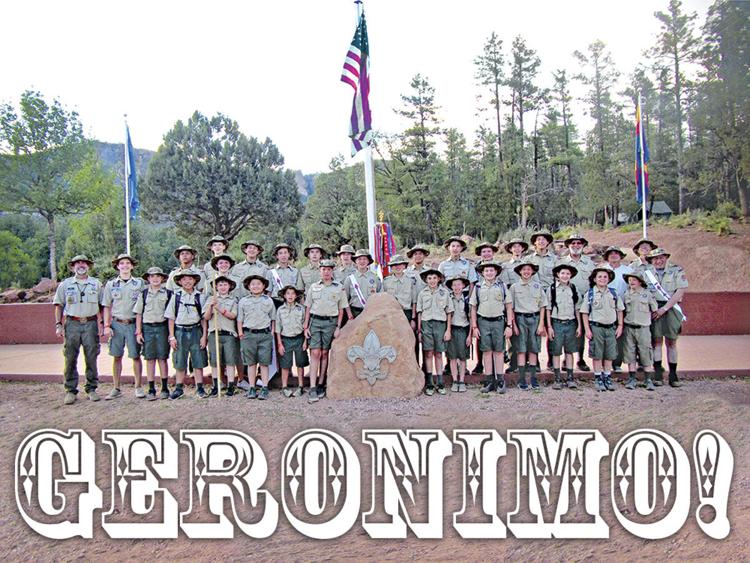 Summer Camp Snapshots from Arcadia's Troop 6
Arcadia's Boy Scout Troop 6 went to Camp Geronimo in July, for their annual week-long summer camp. Geronimo is located 20 miles north of Payson, at the base of the Mogollon Rim. 28 Scouts from 11 to 17 years old, along with several adults from the troop stayed for six days and nights at the popular BSA camp in the Tonto National Forest. Geronimo offers a wide variety of outdoor activities and courses, giving scouts an opportunity to earn merit badges from more than 50 different programs. 
Troop 6 was busy, as the boys collectively earned nearly 90 merit badges during the week. Some of the badges include: Archery, Orienteering, Cooking, Lifesaving, Astronomy, Wilderness Survival, Horsemanship, Leatherworking, Woodcarving, Environmental Science, Reptile/Amphibian Study and Search and Rescue.
It's not all about the merit badges, though.
"The Scouts also learn personal responsibility," said Troop 6 Scoutmaster John Moody. "They wake up each morning at 4:45 a.m. for the Polar Bear Swim, keep their tents and campsite clean and well-organized (including the latrines!), plus they have the responsibility of getting to their merit badge classes and completing the required work – all without their parents!"
The BSA summer camp program is a peer-based learning system, with adult oversight. Older Scouts gain confidence by learning and practicing critical leadership skills when they lead younger Scouts. 
The camp holds seven sessions during the summer, with several troops attending each week. Camp Geronimo is spread out over 200 acres and has 29 separate camp sites capable of handling more than 400 people. Troops come from all over Arizona with a few from other states.
"It was a great week," said Moody. "A Scoutmaster couldn't have asked for a better group of Scouts or a better week at summer camp. I am so proud of all of them!"
For more about Troop 6 contact John Moody at jmoody@pcmlawaz.com.