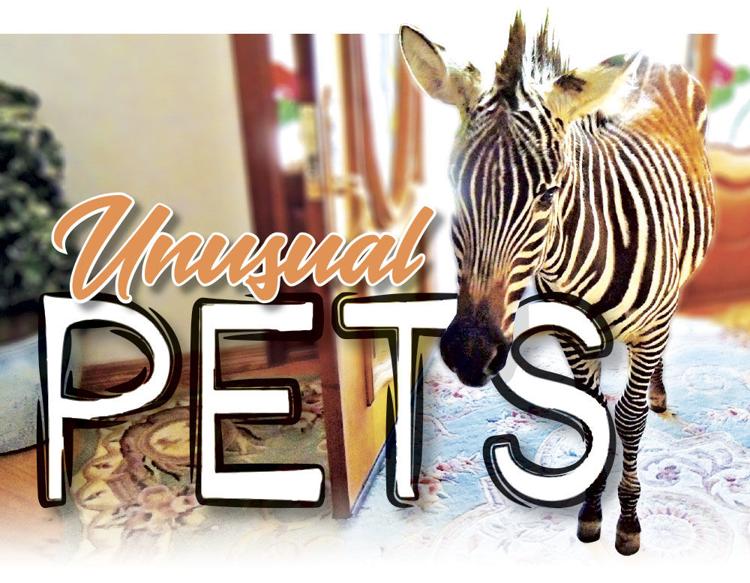 Unique animals around the Arcadia neighborhood
One of the best feelings in the world is coming home after a long day and being greeted by your pet. Whether it be a cat, dog, even a bird or a fish, pets come in all shapes and sizes.
This month, we're introducing you to some of Arcadia's more unusual two, four or even eight-legged residents, and the people that love them!  
Tarantula
Gavin Inge
Zeus has been a part of Gavin's family for about a year. Gavin once did a report on tarantulas for school and decided to save up his money and buy his own as a pet. 
One of the most interesting things about Zeus is that he is nocturnal, so during the day, he buries himself in a den under the dirt in his cage. He also molts his skin like a snake and only eats every couple of weeks. 
"One thing I need to always keep an eye on is that he likes to climb the walls of his container at night, and so I really need to be sure I have the lid on tight, otherwise my mom won't be happy," Gavin said.  
Cockroaches

&

Hedgehog
Jessica Headley
These cockroaches aren't like the ones we see running around. Madagascar cockroaches make a hissing noise when they release air through their abdomens. They grow to be around three inches long, and don't bite or pinch.  
"Once, I woke up to find over 100 tiny things crawling up my wall. Turns out my mom had put their enclosure in my room and the babies were small enough to climb through the slits," Jessica said. 
Jessica owns three of the little guys, and says they like to crawl around on her hands for fun. 
She also owns an African Pygmy Hedgehog named Nelly, who likes to stroll around the backyard while Jessica waters her plants. 
"Nelly has the cutest face in the world. I could watch her all day," Jessica said. 
Nelly is nocturnal and a solitary animal, so she sleeps all day and likes to be by herself. If she's threatened, her quills will "pop" up and poke whatever scares her. Once, Nelly escaped and made it all the way to the back of the fridge.
Mini Horses, Mini Donkeys, Camel&Zebra
Traci Cornell
Traci has been rescuing animals for over 30 years. The oldest animal she has is Clyde the camel, who she got as a baby 20 years ago. 
Traci says that her mini horses and donkeys have the personalities of dogs and that if they could walk into the house, they would! She says all of her pets are very friendly and often have visitors. The Shriners even take Clyde to parades and events.  
Lucky Stripe the zebra is four years old and came to live with Traci after a rescue in California could not afford to correct an umbilical hernia. He has now become a part of the Cornell family. 
Traci also owned potbelly pigs at one time. One of her funniest pet stories is when her pigs set the alarm off at her house, and when the police showed up, they discovered the pigs eating the Halloween candy that was hidden in the closet.  
Bearded Dragon
Evan Shatz
Evan has owned his bearded dragon, Alex, since she was in an egg. Two years later, she is a bright orange and yellow, and has a voracious appetite.  
"She loves to eat. I can't remember a time when she didn't eat a whole bowl of crickets," Evan said.  
Evan says that she is a real crowd pleaser too, especially when they take her on walks. She's very easy-going with a curious personality. She even once tried to eat Evan's shirt! 
Bearded Dragon
Blake Buckler
Dash has been a part of the Buckler family for two years. Blake wanted a bearded dragon because he really liked the shape of Dash's head; the triangle shape and the spikes make him look like a real dragon. 
"Dash is very calm and loves to just hang out and sit with the family," Blake's mom, Bita, said. 
Bearded dragons were originally found in regions of Australia. It wasn't until the 1990s that they were brought and bred in the United States. Dash likes to relax and eat fruits, veggies and crickets.  
"You have to keep an eye on him though because he likes to hide under the refrigerator and sometimes he even chases our dog around," Blake said. 
Gavin says that Zeus doesn't really bite, and when he does, it doesn't hurt too bad.