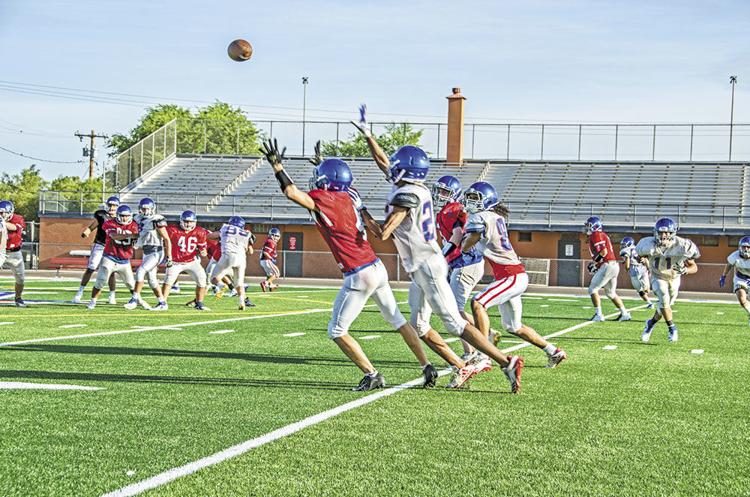 September 30, 2016. Almost 24 months ago. Barack Obama was still the President. The Chicago Cubs hadn't won a World Series in over a century and Eleven was still surving on Eggos in that cabin in the woods. 
That Friday night was also the last time the Arcadia High School football team had won a game going into the season. 
The past two years have been tough ones for the Titans football program. After a disappointing 2-8 season in 2016, the team decided to part ways with head coach Lenny Abt. Aiming for a turnaround, new head coach Tony Stillings overhauled the offense with a more pass-happy attack. But even the biggest skeptics couldn't have been prepared for the 2017 season. The Titans went 0-10 and were outscored by opponents 469-29 for the year. 
So why is there such a buzz around the program this fall? It begins and ends with one man, new head coach Kerry Taylor, who many believe will be the answer that the Arcadia football team has been looking for.  
To fully understand the fundamental change that has already taken place in the Titans program, it helps to sit across from the 29-year-old Taylor and hear him talk about his expectations for the coming season. Hear him say he'll be disappointed if the Titans don't make the playoffs this season. A lot of coaches say things like this when they start new jobs. But Taylor isn't just saying it. He is
100% serious. 
"I'm just being honest here, this is going to be a total overhaul," said Taylor. "We're starting at ground zero. I can tell you that this year is going to look completely different to everybody. To coaches, players, and to the community." 
Some may be tempted to say that they've heard this talk of a turnaround before. But Taylor's reputation gives a little more weight to his words. The son and nephew of former NFL players, Taylor grew up in the locker rooms and always wanted to play football. He would eventually go on to play at Arizona State University and the Arizona Cardinals. But even during his playing days, Taylor was naturally drawn to coaching. 
"I remember always being interested in that aspect of football," he said. "I loved the chess match side of the game, the scheming, drawing up plays. I knew when I was done playing that this was what I wanted to do." 
After his NFL days were over, he spent time coaching at Salt River High, Phoenix College and Oregon State University. Once he took the job at Arcadia earlier this spring, he immediately began reworking the entire program, trying to figure out the answer to a single question: why hasn't this school been winning? He even interviewed the players, wanting their voice to be heard in the changes as well. 
"I want to know what the problems have been," said Taylor. "We're reevaluating everything. We've restructured the weightlifting program and added an intro to weightlifting class for freshmen. Conditioning is now mandatory and we set up an offseason schedule for the kids."  
One change that immediately caught the eye of football fans all over the Valley was the pedigree of the coaching staff that Taylor was assembling. His assistants are younger, and almost all of them have played for big time college programs. Assistant coaches Ryan McFoy and Trent Marsh played at ASU, while defensive coordinator Javes Lewis was an Oregon Duck in college. Taylor's brother Kendyl, who played at the University of Washington and NAU, will be coaching the wide receivers. 
"Honestly, getting those guys was easy," said Taylor. "I called them right away and told them I had gotten this job, and that we were going to take a program that struggled and turn this thing around. Having those resumes helps, the kids are willing to buy in quick because of that college experience." 
The goal is to turn Arcadia into a winner, and Taylor has a good blueprint for how to do this. He played his high school ball at Hamilton High School in the mid-2000s, when the school was dominating the state. The toughness shown by those Huskies teams is something Taylor would like the Titans to emulate. 
"We all loved competing at Hamilton, and were always just focused on winning the game that week," said Taylor. "We were a bunch of tough kids, and practice was harder than the games were. Football is a tough sport and I tell the kids we are setting the bar high here. Can you meet that bar?"
The Titans turn toward a different brand of football has created a hype around the program that hasn't been seen in years. The team's direction over the last two years had led to several players quitting. But the last few months have seen players recruiting their friends during class, and kids approaching Taylor to ask if they can play. Practices are different now too, with noticeably higher intensity from the coaches, and loud music giving the session an upbeat vibe. 
If there were any doubters about the direction of the program, the first game of the season officially silenced them. The Titans crushed Coronado for a 49-0 win, in what can clearly be viewed as a turning moment for the program. New quarterback Kadin Beler threw for 149 yards and two touchdowns, while running back Paxton Earl and wide receiver Lonzell Lanier each scored two touchdowns of their own. More importantly, there was a buzz throughout the stands that had been missing from Friday nights in Arcadia for a long time. The Titans won again the following week, starting off the season 2-0.
"Successful football programs have to be backed by the community," noted Taylor. "At Hamilton, that success was a community effort. Everyone stopped what they were doing and went to check out the show on Friday. That's what we want. Friday night is going to be a show, and we want everyone to come check it out."